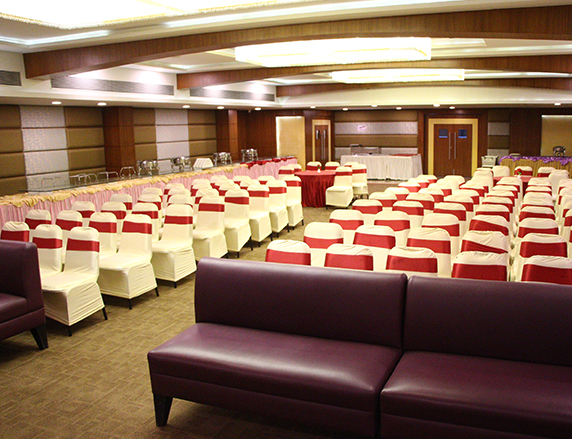 Luxury Wedding & Banquet Hall in Chhindwara
The magnificent Banquet Hall in Chhindwara Hotel Dev International gives you the freedom to host any kind of celebration or event you want to. Our banquet hall in Chhindwara allows you the privilege to host around 700-800 guests at a time for the wedding party, making it one of the best wedding hall in Chhindwara.
In addition to this huge capacity of treating a large number of guests in our Chhindwara banquet hall, you also have the privilege to treat your outstation wedding party guests to a luxurious stay at our Chhindwara hotel with 42 deluxe rooms available for lodging. The polite and friendly staff of the wedding banquet hall in Chhindwara lets you enjoy the wedding party with your family and friends and make it a grand occasion amidst a relaxed setting.
Other than wedding parties in our Chhindwara banquet hall, we also are open for bookings for business events which can range from corporate meetings, workshops, seminars, and related dealings. Our well-trained staff is capable enough of organizing for you sophisticated set up accompanied by delicious cuisines, drinks, and desserts.
Our hall rooms are well furnished with comfortable chairs and sofas for seating, elegantly carpeted all over with complementary decoration and theme work. The lighting we provide is apt for the wedding party or the engagement parties or other occasions adding an aesthetic look to this banquet hall in Chhindwara.
Apart from business meetings and wedding parties, we feel immensely glad to be a part of other such memorable junctures of your life, such as birthday and engagement parties, anniversaries, kitty parties, graduation parties, promotion celebration and more.
Our staff at the banquet hall strives hard to serve you the best food with a wide range of delicacies to choose from ranging from shahi local cuisines to national and international food items. We make sure the food quality served is among the best and makes the guests go gaga over it.
The excellent location of our banquet hall also makes it count among the best wedding hall in Chhindwara as it is hardly 3-5 minutes from the Chhindwara bus stand and 10 minutes drive from the Chhindwara Railway station, making it comfortable for outstation guests to attend the functions.
The Chhindwara banquet hall is fully air-conditioned, has an advanced sound system and the interior decoration is taken care of by our expert personnel in the most professional way. Hotel Dev International also offers ample space for free parking for the guests which makes it a hit among the guests as they do not have to worry about car parking slots.
Elegant and exclusive décor.
Well-mannered and trained workforce.
Air-conditioned rooms.
Spacious large hall suited for 700-800 guests.
Well furnished rooms having comfortable chairs and sofas.
Graceful lighting system.
State-of-the-art sound system.
Ample parking spaces.
Delicious multi-cuisine choices for wedding and other functions.
Designed to suit business meetings too.
Modern amenities.
Prime location.
For further details and customized packages for the wedding party, business meet-ups, and more please get in touch with us at +91- 9098055444 or you can email us at contact@hoteldevint.com.